Success Stories
Our sucsess stories inspire us to provide the best support we can, by showing how we are making a real positive difference to people's lives.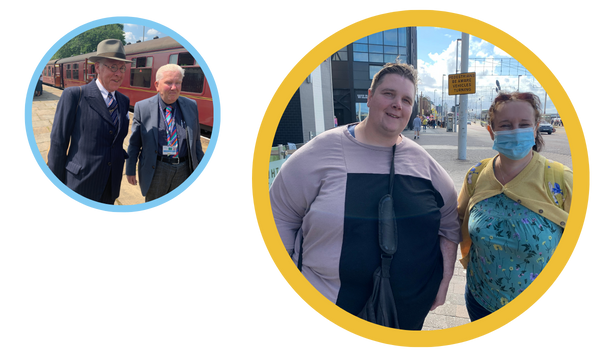 Please see the videos and quotes below showcasing the wonderful achievements of the people we support and staff.
Owen (Trafford)
Since being supported by Future Directions, Owen has grown in confidence and become more independent by holding down a job at Altrincham Market and taking a tram to and from work. He lives a great life by following his favourite football team and doing fun runs for charity.
Nicola (Stanley Grange)
Nicola loves to travel and explore new places and have new experiences. Over the last couple of years, Nicola has grown in confidence in using public transport alongside her values driven personal assistants. This year she has travelled up to London to explore the capital and has fulfilled one of her many dreams by going to Disneyland Paris. With excellent, person centred support, she is happy to travel anywhere in the world.
Boxyard Studios Sessions (All Areas)
At Future Directions, we support individuals to not just have good lives, but to have great lives and to live out their dreams. Making peoples dreams come true, is truly life changing for both the person and their support network as can be seen in this short film. For those sixteen people that we supported to both sing and record their favourite songs onto CD at the Manchester based professional recording studio, this experience was life changing.
What family members say about Future Directions…
"The staff support our daughter very well. We couldn't support her better at home than what her staff do."  – Parents

"The change from a previous provider to Future Directions has been good. The contact and family meetings has been good, which we appreciated. It is refreshing to have a provider who puts the person first and not the staff."  – Family member

"The staff were amazing and gave him opportunities he would never otherwise have had even if he if had lived with his parents. He couldn't have had a better place to live." – Relative

"My son's personal assistant is fantastic and as parents we are confident that our son is being prepared for his future." – Parent
"The training provided by Future Directions is excellent. I don't think you would get the same quality or level of training anywhere else. The training is not just induction. It is ongoing. Staff are updated at all levels. That is why we chose Future Directions. As a family we feel that the staff experience in dealing with a specially autistic individual is beneficial, sometimes our son can become very challenging and the staff are trained how to handle such a situation which helps us as a family immensely." – Parent

"Future Directions are always responsive to our son's needs and welfare. The FD management team keep in regular contact with us as his parents and ensure we are informed of any issues that arise and the actions taken to mitigate any risks and issues affecting our son's his health and wellbeing. We can't thank you, Future Directions and staff enough for all that has been done for our son." – Parents
What the people we support say about Future Directions…
"Future Directions are brilliant and have done a lot for me. My support staff help me to be part of my local community. They listen to me. It is important that I get the right staff. I train people to get their own staff. I teach them how to ask questions so they get the right staff." – Stephen, supported by Future Directions CIC

"It feels like I've got a new life now. You have a lot of people around you that care about you." – Maz, supported by Future Directions CIC

"It's really nice living here, you get out more than you did before. I feel safer. It makes me happy." – Roy, supported by Future Directions CIC
"I've been a lot better since I've had the outreach people coming. They take me to hospital and doctor's appointments. They are very friendly and make you feel like a human being. I meet people, I interact with people. It makes me feel like I want to get up in the morning. It's the best thing that's ever happened to me, it's given me my confidence back." – Lois, supported by Future Directions CIC Outreach

"If I didn't have outreach I would never go out, I would be on my own, in fact, I wouldn't be a very happy person. I find that I am getting much better every day. It's the best thing that has ever happened to me. They are all great people to be with. I don't feel like a burden. I don't feel like I am putting on them. They are the best people I've ever met, they have given me a new lease of life. I'd be totally lost without them." – Cynthia, supported by Future Directions CIC Outreach
What professionals say about Future Directions…
"It is really nice to see a service so caring and dedicated to the people it is supporting. It is refreshing to see. I knew the person supported a long time ago and knowing how he used to be it is really good to see all of the skills he has developed with the support over the last few years and especially the developments made over the last 24 months. He is now doing things independently that his previous support provider had originally felt were not possible. Credit goes to his staff team and management." – Andy Greenwood, Mersey Care
"I see Future Directions spearheading the move to community care. It is very exciting that Future Directions are established as an independent CIC, they are breaking boundaries and grabbing opportunities and changing the culture to what individuals want." – Sir Stephen Bubb – Former ACEVO CEO and author of Winterbourne View –Time For Change Report
What staff say about working at Future Directions…
"The benefits are when you go home at night and the feeling that you get inside, you can't buy that, you can't be paid that. It's the feeling you get from the job every day." – Patrick, Personal Assistant at Future Directions CIC
"I've been doing my job a long, long time and it's not just coming to work to be paid at the end of the day. It's because I love being here, I love working with the people we are supporting. It's a really happy, fun place to be." – Jane, Team Manager at Future Directions CIC